LIVING LOCALLY IN THE AUCKLAND BIOREGION
Saturday 6 NOVEMBER 2021 9am – 5pm
Central Auckland
TUTORS – Gary Marshall and Finn Mackesy
---

"The question Where are we? has a deep, sustaining ring to it. It is a simple question with a deceptively complex answer."
Robert Thayer

---
"The question Where are we? has a deep, sustaining ring to it. It is a simple question with a deceptively complex answer" (Robert Thayer). This workshop asks participants to explore what it means to live locally in the Auckland bioregion. Through a series of discussions and design exercises, participants will investigate concepts and design strategies that seek to enrich their neighbourhoods and bioregion. The workshop includes a site visit to an on the ground example of a bioregional design and development initiative and talk with people involved.
In the case of a lockdown due to Covid19 we are geared up to deliver the programme via an online format if necessary. For more information please see our Programme Information PDF.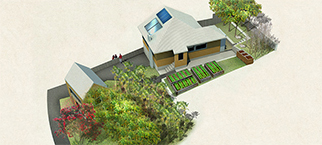 COURSE CONTENT
Introduction to – Bioregionalism and Life Place theory; Bioregional and neighborhood audit and stocktake; Design strategies for retrofitting bioregions and neighbourhoods; Re-localization and Transition Culture – the Transition framework and the 12 Touchstones; Local, national and international best practice examples; Integrated Catchment Management, landscape ecology and settlement design.
LEARNING OBJECTIVES
Develop a deepened understanding of the Auckland bioregion
Develop an understanding of the key principles of sustainable design and retrofitting
Develop strategies for living locally, enriching and retrofitting the Auckland bioregion for a sustainable and resilient future
Develop an understanding of retrofitting existing structures
Apply the day's learning to a practical design activity
Identify opportunities and challenges to applying the day's learning
LINKS + REFERENCE MATERIAL
Life Place, Bioregional Thought and Practice
ROBERT L. THAYER, 1999
A Field Guide to Auckland: Exploring the Region's Natural and Historic Heritage
CAMERON, HAYWARD AND MURDOCH, 2008
How Buildings Learn: What Happens After They're Built
STEWART BRAND, 1994
The Localization Reader
RAYMOND DE YOUNG and THOMAS PRINCEN (EDS), 2012
How to Thrive in the Next Economy
JOHN THACKARA, 2015
A Design Agenda For Bioregions
JOHN THACKARA, 2017