LIVING LOCALLY IN THE AUCKLAND BIOREGION
Saturday 6 NOVEMBER 2021 9am – 5pm
Central Auckland
TUTORS – Gary Marshall and Finn Mackesy
---

"The question Where are we? has a deep, sustaining ring to it. It is a simple question with a deceptively complex answer."
Robert Thayer

---
"The question Where are we? has a deep, sustaining ring to it. It is a simple question with a deceptively complex answer" (Robert Thayer). This workshop asks participants to explore what it means to live locally in the Auckland bioregion. Through a series of discussions and design exercises, participants will investigate concepts and design strategies that seek to enrich their neighbourhoods and bioregion. The workshop includes a site visit to an on the ground example of a bioregional design and development initiative and talk with people involved.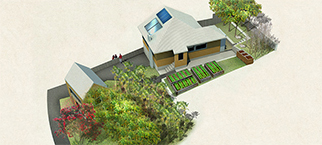 COURSE CONTENT
Introduction to – Bioregionalism and Life Place theory; Bioregional and neighborhood audit and stocktake; Design strategies for retrofitting bioregions and neighbourhoods; Re-localization and Transition Culture – the Transition framework and the 12 Touchstones; Local, national and international best practice examples; Integrated Catchment Management, landscape ecology and settlement design.
LEARNING OBJECTIVES
Develop a deepened understanding of the Auckland bioregion
Develop an understanding of the key principles of sustainable design and retrofitting
Develop strategies for living locally, enriching and retrofitting the Auckland bioregion for a sustainable and resilient future
Develop an understanding of retrofitting existing structures
Apply the day's learning to a practical design activity
Identify opportunities and challenges to applying the day's learning
LINKS + REFERENCE MATERIAL
Life Place, Bioregional Thought and Practice
ROBERT L. THAYER, 1999
A Field Guide to Auckland: Exploring the Region's Natural and Historic Heritage
CAMERON, HAYWARD AND MURDOCH, 2008
How Buildings Learn: What Happens After They're Built
STEWART BRAND, 1994
The Localization Reader
RAYMOND DE YOUNG and THOMAS PRINCEN (EDS), 2012
How to Thrive in the Next Economy
JOHN THACKARA, 2015
A Design Agenda For Bioregions
JOHN THACKARA, 2017
In case of alert level changes due to Covid19 we are geared up to deliver via an online format if necessary.