TREE CROPS
Saturday 7 MAY 2022 9am – 5pm
Usually early May – Saturday 9am – 5pm
Central Auckland with West Auckland field trip
TUTOR – Derek Craig
Tree systems and forests have the potential to provide most humans needs and create a stable and resilient biosphere. Participants will learn the fundamental principles of designing and establishing a wood lot, orchard or food forest for a range of sites and contexts, from inhibited urban spaces through to lifestyle blocks. Learning from an expert in the field, participants will be taught about the practical management required for plant health and productivity. This workshop is ideal for anyone wanting to learn about the diversity of productive trees that can be grown in the Auckland bioregion.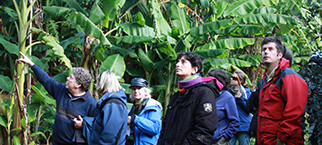 COURSE CONTENT
Introduction to – Forest ecology and tree systems; Tree crop design; Orchard design, layout and management; Selecting appropriate fruits / nuts / vines / berries; Planting; Propagation and grafting; Plant health – pests and disease, pruning, and nutrient management; Herb lay and beneficial insects; Integration with small animals; Site visit and practical activity.
LEARNING OBJECTIVES
Understand the fundamental role that tree systems play in ecosystem function
Understand the fundamentals of designing and managing productive tree systems and how to integrate trees into already existing systems
Understand the fundamentals of plant propagation, health and productivity
Develop an understanding and appreciation of the opportunities and limitations of growing tree crops in the Auckland bioregion
Observe and interact with tree crops in an applied setting
Identify opportunities and challenges to applying the day's learning
LINKS + REFERENCE MATERIAL
Fundamentals of Ecology
EUGENE ODUM, RICHARD BREWER, and GARY W. BARRETT, 2004
The Nature Guide to the New Zealand Forest
JOHN DAWSON, ROB LUCAS, 2003
Fruit and Nuts:
A Comprehensive Guide to the Cultivation, Uses and Health Benefits of over 300 Food-Producing Plants
SUSANNA LYLE, 2006
In case of alert level changes due to Covid19 we are geared up to deliver via an online format if necessary.