DESIGN PROJECT
The design project is an opportunity for participants to apply their knowledge of permaculture to a relevant, real life situation of their choosing. There are no absolute limitations on the subject matter of the project, so long as students demonstrate an understanding of the permaculture design principles (introduced in the first workshop – Philosophy and Design) through the application of a considered design process.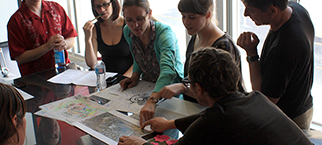 In the past, projects have addressed a range of themes, including the design of suburban, lifestyle block and rural properties; creating a permaculture analysis tool for selecting a property; application of permaculture principles to an IT business; establishing and working with a community group; and redesign of a public space. Other projects and themes could include: a retrofit of a house or residential street; setting up a local complimentary currency, resource centre, education or healthcare initiative; a community led biodiversity, energy or waste water strategy; or a Community Supported Agriculture (CSA) project.
The design can be completed individually or in groups with an expectation that each student spends at least 20 hours on the project. Tutors will be available for feedback during the process. Participants will be required to create and present a ten-minute presentation of their projects to tutors and colleagues. The full brief and outline will be provided at the first workshop.