LANDSCAPE DESIGN
Saturday 6 MARCH 2021 9am – 5pm
Central Auckland with field trip
TUTOR – Gary Marshall
This workshop introduces participants to the fundamental concepts of ecological literacy and regenerative landscape design. Students will learn to read landscapes, sample soils, map and record ecological and space-based information, and use and apply basic design tools to the design of a real property. The design tools and methods learned in this workshop will form the basis for practical activities and projects throughout the APW programme. This workshop is essential for anyone interested in developing practical skills in design and permaculture.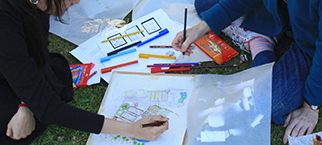 COURSE CONTENT
Observation and interactions with nature and the landscape; Landscape and site and sector analysis including – topography, hydrology, ecology, soil, micro-climates; Understanding and working with external influences, variation, and change; Landscape management; Integration of uses; Field trip and practical design activity.
LEARNING OBJECTIVES
Develop ecological literacy skills
Develop an understanding of landscape design
Apply the day's learning to the design of an Auckland property
Identify opportunities and challenges to applying the day's learning
LINKS + REFERENCE MATERIAL
Introduction to Permaculture
BILL MOLLISON with RENY M. SLAY
Landscape Planning: Environmental Applications
WILLIAM M MARSH, 2005
"Melliodora" Hepburn Permaculture Gardens: 10 Years of Sustainable Living
DAVID HOLMGREN, 1995
In case of alert level changes due to Covid19 we are geared up to deliver via an online format if necessary.