FERTILE GARDENING
Saturday 2 OCTOBER 2021 9am – 5pm
West Auckland
TUTORS – Ron Sperber & Buffie Mawhinney
In this full day workshop we will cover the fundamentals of organic food production starting from the design of a garden to the ongoing management and maintenance of it. This workshop is a great opportunity to learn by doing and work 'in the field' applying some of the key principles and skills needed to grow food, fibre and fuel sustainably in New Zealand. This workshop is ideal for anyone serious about organic gardening and producing food for themselves, their families and their community.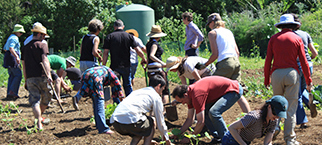 COURSE CONTENT
Introduction to – Designing gardening systems for your soils, site and personal needs; Site management; Biological services and feedback loops – pest control, nutrient flows, and fertility; Herbs and perennials; Crop rotation / green crops / herb lays; Plant health, pests and disease; Year round food production.
LEARNING OBJECTIVES
Understand the fundamentals of soil fertility, nutrient cycling, diversity and plant health
Develop an understanding of designing and managing organic food production systems
Apply the day's learning to practical gardening activities
Identify opportunities and challenges to applying the day's learning
LINKS + REFERENCE MATERIAL
How to Grow More Vegetables* (and fruits, nuts, berries, grains, and other crops)
*than you ever thought possible on less land than you can imagine
JOHN JEAVONS, 2006
The Natural Way of Farming: The Theory and Practice of Green Philosophy
MASANOBU FUKUOKA and FREDERIC P. METREAUD, 1985
The Soil and Health: A Study of Organic Agriculture
SIR ALBERT HOWARD, 2007
Farmers of Forty Centuries: Organic Farming in China, Korea, and Japan
F. H. KING, 2004
The New Complete Book of Self-Sufficiency
JOHN SEYMOUR with WILL SUTHERLAND, 2002
In case of alert level changes due to Covid19 we are geared up to deliver via an online format if necessary.