BUILT ENVIRONMENT
Saturday 19 ​JUNE 2021 9am – 5pm
Central Auckland with field trip
TUTOR – Gary Marshall
SUPPORT TUTOR – Jack Haldane-Willis
Buildings consume 40% of the world's resources and 55% of the harvested timber. They also generate 40% of total solid wastes and 40% of the world's harmful wastes. This workshop is an introduction to ecologically responsive building design for the Auckland bioregion. This workshop is ideal for participants wanting to learn how to design sustainable, safe, healthy and comfortable living environments. The days learning will be applied to a practical design activity supported by experts in the field.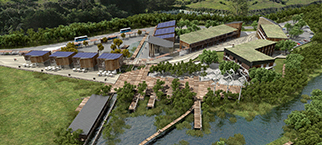 COURSE CONTENT
A brief history of housing in New Zealand; National and international best practice examples; Climate responsive design; Sustainability features – material use and construction methods, indoor air quality, energy (passive and active), space heating and insulation, water management and waste elimination; and Practical design activity.
LEARNING OBJECTIVES
Develop a deeper understanding of the built environment
Develop an understanding of the key principles of ecologically responsive building design
Develop an understanding of the key principles of retrofitting existing structures
Apply the day's learning to the design of building in the Auckland bioregion
Identify opportunities and challenges to applying the day's learning
REFERENCE MATERIAL
A Pattern language: Towns, Buildings, Construction
CHRISTOPHER ALEXANDER et al. 1977
The Barefoot Architect: A Handbook for Green Building
JOHAN VAN LENGEN, 2008
The Integral Urban House: Self Reliant Living in the City
SIM VAN DER RYN et al. 1975, reprint 2008
Sustainable House
MICHEAL MOBBS, 1998
In case of alert level changes due to Covid19 we are geared up to deliver via an online format if necessary.