PERMACULTURE DESIGN CERTIFICATE
We offer a new form of permaculture education through a wide range of workshops that focus on various aspects of ecological literacy, place making, and sustainable design and living. The workshops are intended to inspire, challenge and empower participants to action.
"This course has been life-changing for me. I have learned so many practical & philosophical skills that are greatly beneficial to me and my community" – Nicola Groves
"A fantastic mix of theoretical and practical opinions and knowledge on a very rich and valuable subject" – John Allan
Participants will learn design skills that integrate the environment, people and technology to create abundant and resilient ways of living for themselves and their communities. While the workshops are grounded in the Auckland bioregion, the skills learnt are easily transferred to other bioregions.
There are twelve workshops in the 2017 Permaculture Design Certificate programme: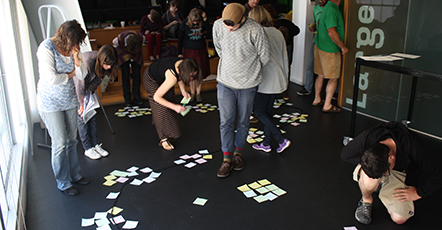 Philosophy and Design 11 Feb
Landscape Design 4 Mar
Built Environment 18 Mar
Living Communities 8 Apr
Tree Crops 20 May
Appropriate Technology 17 Jun
Urban Design and Living 15 Jul
Resources and Redefining Waste 19 Aug
Economics for People 16 Sep
Fertile Gardening 30 Sep
Empowerment and Resilience 14 Oct
Living Locally in the Auckland Bioregion 18 Nov
The Permaculture Design Certificate (PDC) is an internationally recognised qualification, accredited by Permaculture in New Zealand. Certificates are achieved when participants complete a minimum of nine of the twelve workshops and a design project of their choosing. The Design Project is an opportunity for participants to apply what they have learned to a personal and meaningful project.
APW's Permaculture Design Certificate programme includes twelve full day workshops, a PDC programme folder, permaculture design project mentoring and three design project presentation days.
For full details on the 2017 Permaculture Design Certificate see our Programme Information 2017 PDF [right click + download / save link as]. We encourage all participants to read this document prior to registering for the programme.
BACKGROUND
Permaculture is a design approach to sustainable living modelled on natural ecosystems, integrating human settlements in healthy and productive environments which provide for all human needs.
The first PDC was created and delivered by Bill Mollison in the 1980s as an onsite two-week intensive course. This format was later developed into a modular programme delivered over a longer period of time. APW have adapted this modular programme to be delivered over twelve Saturday workshops and developed the content specifically for Auckland's Bioregion. We find that the local content delivered over a longer programme grounds the learning experience and gives participants greater flexibility as well as the opportunity to integrate and apply what they have learnt to their own life throughout the year.